The 2022 Mexican Heritage Collector's Calendar
We were motivated to start this company by the ability of Chet and Lindy Downs to open a window to the past through their Mexican Revolution Calendars. Their fascination with history has had a major influence on us. As we enter our second year of creation, our current path is dictated by nostalgia and curiosity, both of which are essential to a company that looks at the previous century for inspiration. Given this, we have decided to come up with a similar calendar that reflects our love for history and keen attention to detail.
The 2020 Mexican Heritage Collector's Calendar is now available. This calendar demonstrates our passion for history and our unshakable belief in what we do.
Order a copy today... or order as many as you to share with your customers and clients. Quantity pricing is available, plus we can add your custom imprint at the bottom making your message visible all year long.
Lost Era Collector's Bookmarks
Anyone interested in culture and history is surely an avid reader. We are too. That's why we created six different bookmarks to hold our place when we are forced to stop reading for the moment.
Our new bookmarks are printed on a heavy card stock and protected with a durable coating. On one side, they feature a historic photo with a description in Spanish with its English translation. The other side has a photo of a period figure with a famous quote or information, again in Spanish and English. They are 2" by 7" and come in a clear, re-sealable package. (Warning: Choking hazard– small parts and not suitable for children under 3 years.)
Prices are as low as $2.98 per pack. Order now for our special offer: Buy three for $8.95 per pack and get one set free!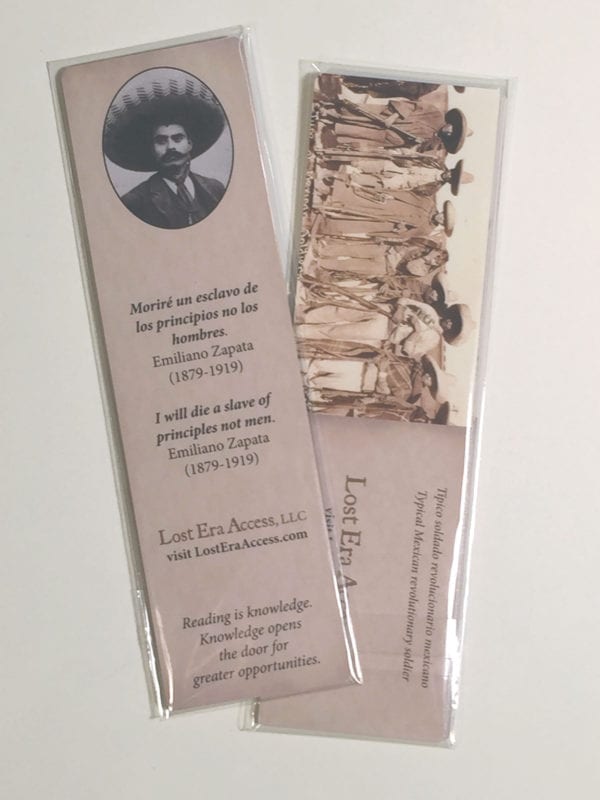 Collector's Bookmarks
Our brand new collection of bookmarks features on one side a historical photo from the Mexican Revolution period with a description, and on the other a notable figure and a quote or information. There are six different bookmarks, 2″ x 7″ printed on heavy coated cover stock with protective coating and rounded corners to make…